Blueberry BBQ Sauce
In this bottle you'll find my take on vinegar-rich Carolina style BBQ sauce. Tangy but balanced, the fruity depth of blueberries makes my sauce a crowd-pleasing way to finish everything from smoked chicken to cocktails. Sop it, brush it or pour it. Just t
$12.99
Pig Polish 16 oz.
All blackberry with a savory sweet finish. Best if used to finish products either smoked or grilled. Adds depth with a great blackberry accent.
$9.49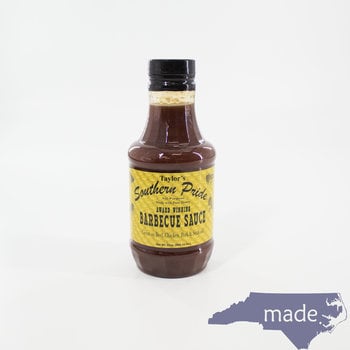 Taylor's Southern Pride Barbecue Sauce
A local staple in eastern North Carolina, this BBQ sauce is an amazing must have for all of your grilling favorites. This all-purpose sauce contains a unique blend of sweet and heat with just enough apple cider vinegar for that signature southern kick!
$7.99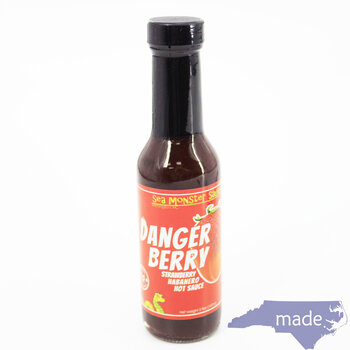 Danger Berry Hot Sauce
Danger Berry Strawberry Habanero hot sauce is a sweet sizzle, and a very berry burn. We love it on Pork, Jalapeno Poppers, Ice Cream, Nachos and Tacos!
$7.99
Dog Gone Good Chicken & Rib BBQ Sauce
This one of a kind all natural thicker, sweeter BBQ sauce made with concord grapes is great on pork ribs, chicken, game meats, and wings. Brush on food while grilling or use as a dipping sauce for just about anything!
$12.49
Abby's Amazing Honey Mustard Sauce
This all natural Sweet and Tangy Mustard BBQ sauce is great on pork, poultry, Ribs, hot dogs, wings, salad dressing or as a dipping sauce. Add to food for extra flavor or brush on food while grilling.
$9.99
Original Shine BBQ Sauce 16 oz.
Slightly sweet while also savory and smoky. Great as your everyday bbq sauce, try it in a bloody mary, eggs, egg sauces, chicken breast and pork chops.
$7.99