The Beginning
      When Dan and Jael Rattigan met at a wedding in 2003, the course of each of their lives changed. After a trip together to Costa Rica, Jael and Dan realized that life in the Midwest just wouldn't do. So they dropped out of graduate school, packed their lives into a 40-foot vegetable oil-powered school bus (converted by Dan), and drove south to Costa Rica. There, they bought an abandoned cacao plantation and started on a very chocolatey journey.
      Destination: Puerto Viejo de Limon, a small Caribbean village filled with fisherman, surfers, and expatriates from around the world. Once parked in Puerto Viejo de Limon, Dan and Jael opened a café and dessert shop, Bread & Chocolate. It was here, in the apartment above the shop that their first son, Sam, was born. It was also here that their interest in cacao became a lifestyle. After a year of studying, playing with chocolate recipes, and serving the good people of Costa Rica, Dan and Jael came to a realization: They are not beach people. But Bread & Chocolate was an overwhelming success, and continues to this day…
Coming to Asheville
      So Bread and Chocolate was sold to Tom Franklin, one of their cooks, originally from Baltimore. Dan and Jael hopped back in their bus to continue their journey as self-ordained chocolate missionaries.
      Somewhere along the way, Asheville, North Carolina, became their destination and French Broad Chocolates was soon born (as was their second son, Max). The business began out of their home kitchen, and the chocolates began making the rounds online and at local farmers markets. The demand quickly outgrew the space, and in 2008, French Broad Chocolate Lounge was opened, giving the people of Asheville a haven for indulgence.
      In 2009, after repeated scolding from the Fire Marshal for exceeding occupancy limits, the Chocolate Lounge was expanded to the second and third floors of its home on 10 S. Lexington Ave.
Bean to Bar
      In 2012, Dan and Jael's dream of becoming bean-to-bar chocolate makers was realized, and they opened French Broad Chocolate Factory & Tasting Room. Intent on nurturing connections to the source, French Broad Chocolate began sourcing cacao from trusted farmers and transforming it into fine chocolate, which we continue to this day. The flavors of cacao, paired with ingredients thoughtfully selected for their integrity, provide inspiration for a compendium of confections and desserts, which are humbly served to our patrons in Asheville and beyond.
      But the tiny chocolate empire continues to expand! In 2018, the factory on Buxton was moved to the Ramp Studios near UNC Asheville - offering 14,000 square feet of space and the ability to churn out nearly 50 tons of chocolate each year!
Peppermint Bark 10 oz. Tin
$29.99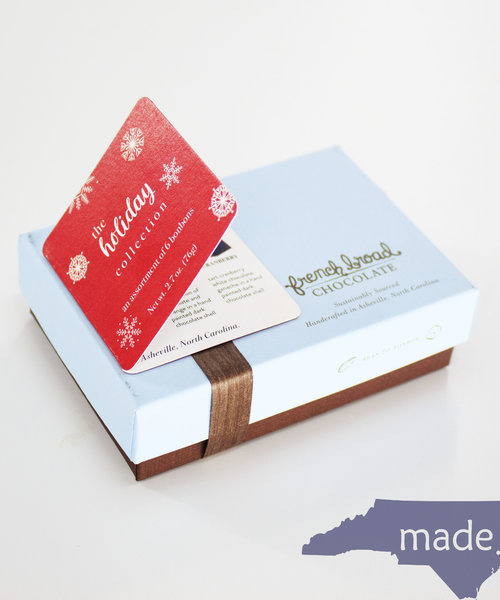 6pc Holiday Bonbons
$18.99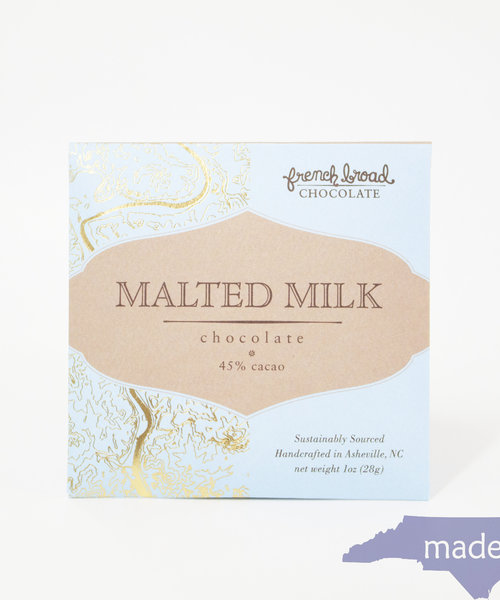 Malted Milk Chocolate 28 g.
$4.99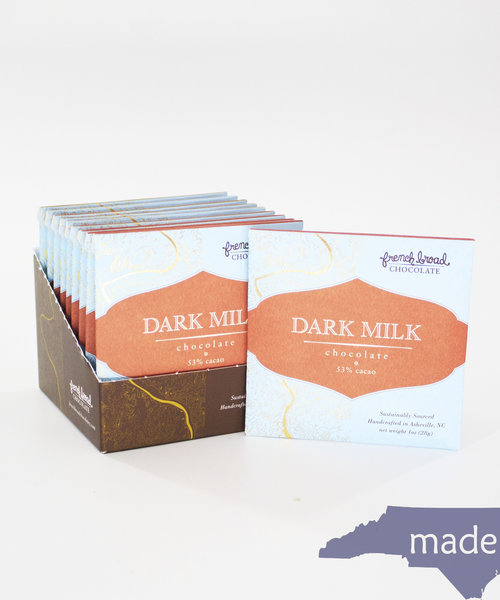 Dark Milk Chocolate 28 g.
$4.99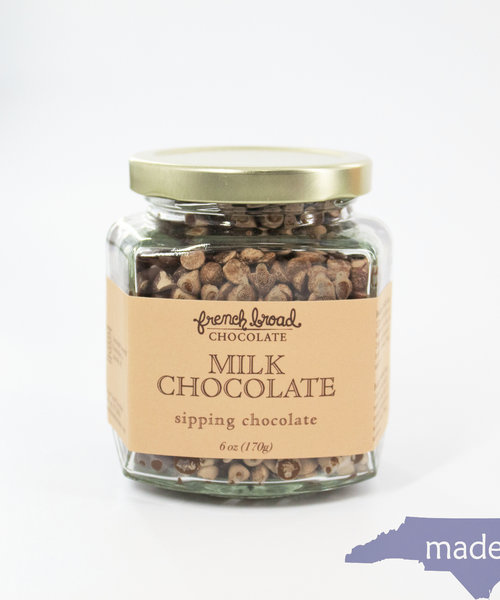 Sipping Chocolate Milk
$11.99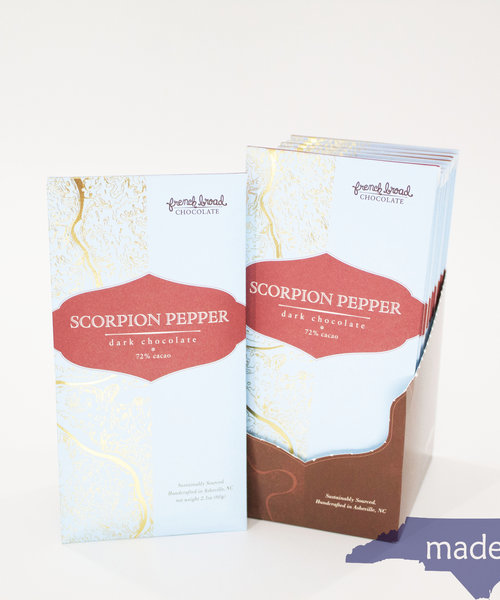 Scorpion Dark Chocolate 60 g.
$9.99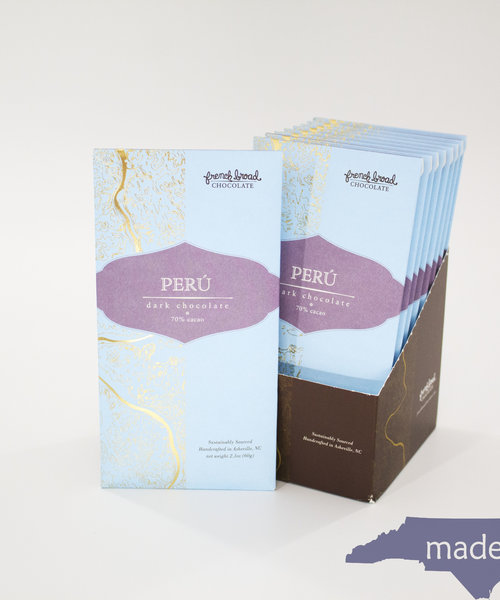 Peru Dark Chocolate 60 g.
$9.99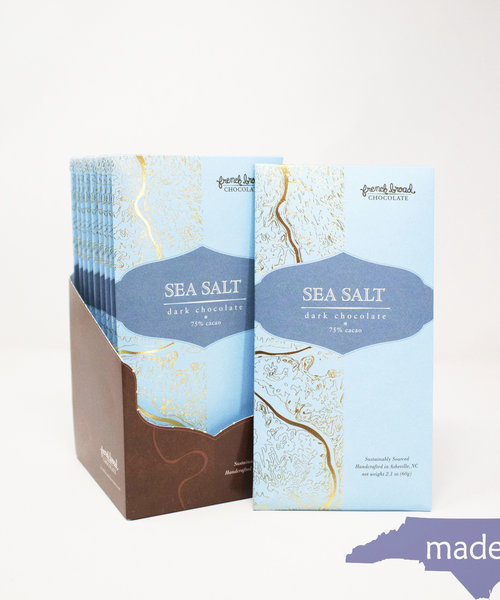 Sea Salt Dark Chocolate 60 g.
$9.99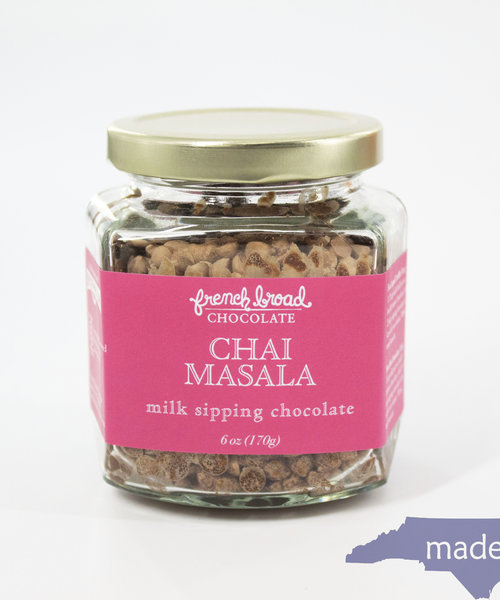 Sipping Chocolate Chai
$11.99
Brown Butter Milk Chocolate 28 g.
$4.99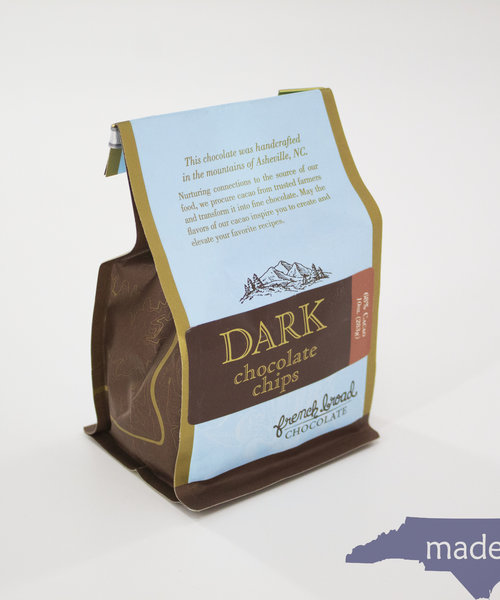 Chocolate Chips Dark
$9.99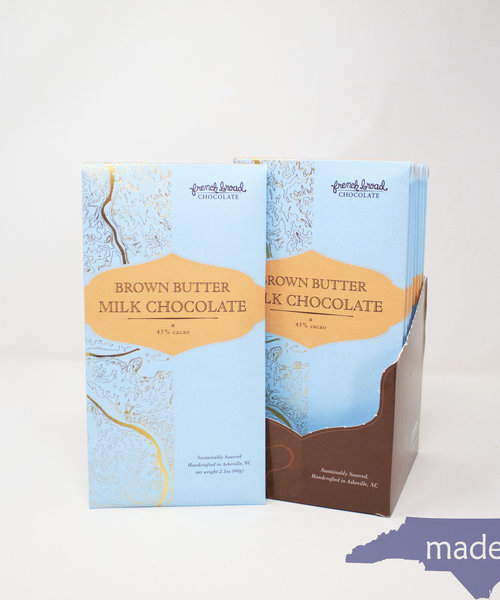 Brown Butter Milk Chocolate 60 g.
$9.99