Shortly after her daughter was born, Irene had a hankering for peanut brittle. Nothing she bought or made from a recipe really satisfied her craving, so Irene began creating her own recipe for peanut brittle. A little more of this, a little less of that, and she had it - the best peanut brittle she has ever tasted! Over the years, Irene loved making and sharing her brittle with friends and family, giving it as gifts and taking it to events. As people would try it, they would always ask for more.
Irene has been a part of Made in NC since its inception and of course, always makes her peanut brittle for the staff. As Made in NC is all about sharing the best of what NC makers have to offer, they couldn't help but ask Irene to partner with them to bring her phenomenal brittle to market. She agreed and Irene's Peanut Brittle was underway.
Always made by hand from only the finest ingredients, Irene's Peanut Brittle is simply delicious!
Original Peanut Brittle
$5.99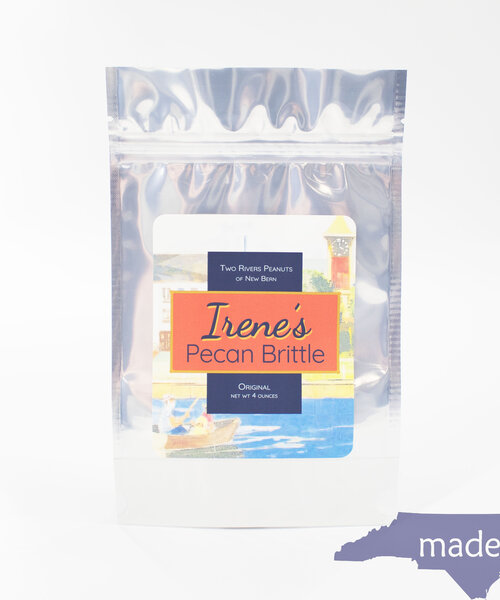 Pecan Brittle 4 oz.
$6.99
Dairy-Free Peanut Brittle - Irene's Peanut Brittle
$5.99