HOW IT ALL BEGAN
In 2005, Olga left her friends and the home she had nurtured and loved most all her adult life in Durham NC, for the country.  A perfect life it seemed, good job, great friends, great house and community....but something was missing.  Something about nature and the land called her.  Against the advice of friends and advisers, she found the place she would put down roots in Alamance County, NC.   A house and barns  in need of much repair and land that clearly had been loved, but abandoned.   Alone in this vast new world with an old Ford pick up she named Floyd, Olga began the adventure.  One of her sister's favorite stories is the night Olga came home to this boundless  land and all these empty buildings asking herself..."What have I done?"  I've left everything I know, all my friends and familiar places.  Her childhood training was such that whining wasn't an option,  "Pick yourself up by those boot straps and deal with it!"  Olga climbed into her pickup and drove to the back of the property.  Parked in the middle of a pasture, with  a glass of wine, she sat on the old Ford's tailgate,  looked up at the sky and with out a moments hesitation otherwise....it all made sense.  
As it became more and more evident that she was in over her head, Olga sought the advice of  John M. Elder...the rest is history.  
John grew up in the mountains of N.C.  His family farmed cattle, sheep, horses, and crops.  He  has wonderful memories and values the richness of his childhood but as he reached the age to decide if farming was his future, he ran to anything but.   He recalls, "it was hard work"!  
No one would ever imagine John would ever leave the NC mountain area but especially for the Piedmont region where temperatures do go over 80 degrees.  John loves to say, "I'm not sure if I fell in love with a girl or a farm."
 They married in 2008.  Together they farm, run the business, and play.  Together they say, "it's hard work but we love it"!
Olga loves to finish the story by saying, "I followed my heart and love found me".  
WHEN IT ALL HAPPENED
In 2005 we purchased our farm
In Fall 2006 our very first Navajo Churro sheep arrived on the farm. 
In 2007 we opened for business!
In 2007 we added the Dorset breed to our farm.  The Dorset offers a downy wool quality and a gentle, quite temperament. 
In 2008 we got MARRIED!
In 2008 we started selling our products at the Durham Farmers Market.  
In 2009 we went into the community to find help with our production.
In 2009 we earned the highest tier, super preferred, on Whole Foods Eco Scale Rating system.
In 2011 we began selling at the Greensboro Curb Market
In 2014 we added Corriedale sheep
In 2014 we organized a cooperative of other wool growers in order to meet the demand of our products. 
In 2016 we renovated a 100 year old barn on the farm to become our "Wool House"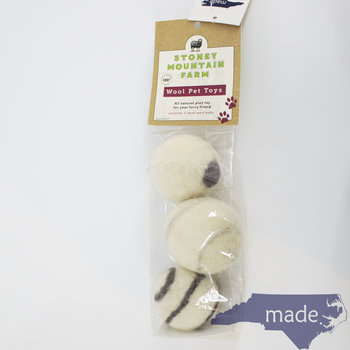 Wool Pet Toys
Tired of having to buy "plastic" and "made in China" for your pets?   One day I heard yet another of our customers tell us the cat or dog had stolen a wool dryer ball and the light went off, we'll give them their own!  The Stoney Mountain Farm Wool Pet To
$15.00